Lightning captain Steven Stamkos puts 500 in the books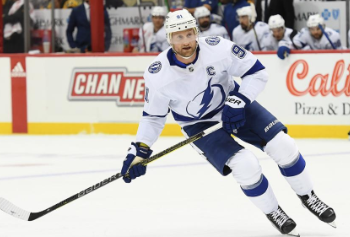 Captain of the Tampa Bay Lightning Steven Stamkos reached a record-breaking milestone to record 500 NHL goals in his 15-year career.  
Stamkos was born in Markham, Ontario on the 7th of February 1990. He was born into a family with one sibling (Sarah Stamkos) with Macedonian and Scottish descent. He is now married to Sandra Porzio, and they have a son together (Carter Stamkos).
Stamkos got his start in hockey playing in the Eastern AAA Hockey League of the OMHA (Ontario Minor Hockey Association) for the Markham Waxers.  
Steven Stamkos was drafted first overall in the 2008 NHL draft by the Tampa Bay Lightning and is now the first player in Lightning Franchise history as well as the 47th player in league history to score 500 career goals. Reports Writer for the Tampa Bay Lightning, Chris Krenn.  
On Wednesday, the 18th of January, Steven Stamkos scored his 500th NHL career goal against the Vancouver Canucks in a 5-2 Win. Also, Austin Nivision a writer and analyst for CBS sports, reports that in this game he scored 2 other goals making him the eighth player in league history to score his 500th goal and record a hat trick in the same game.  
With a right-handed shot, Eduardo A. Encina of the Tampa Bay Times says that #91 is 14 seasons deep into his NHL career with 19 more assists than goals putting him currently at 1,029 career points.  
Scoring this goal makes Stamkos the third currently active skater to score 500 goals, along with Alexander Ovechkin of the Washington Capitals and Sidney Crosby of the Pittsburgh Penguins reports ESPN.  
The NHL all-star games are a gathering of the best players in the NHL in different skill showcases and scrimmage games. The teams in the games are the different divisions (Metropolitan, Atlantic, Pacific, and Central). Stamkos is a seven-time NHL all star and led the league in scoring 2 times in his career (2010 and 2012), reports Joe Smith and Erik Duhatschek, who are writers for The Athletic. 
The 32-year-old has had a phenomenal career and has 1-2 more years on his 8-year contract. Stamkos' career is not over yet, but he will surely be inducted into the NHL hall of fame when it ends.