71st Miss Universe pageant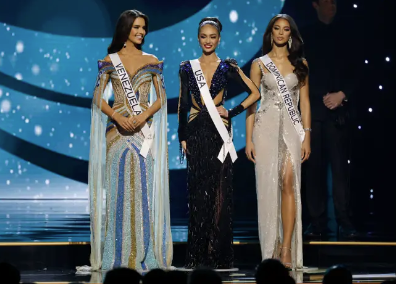 The 2022 71st Miss Universe Pageant show was held in New Orleans Louisiana with 84 women who are from all over the world compete over the title Miss Universe.   
  The Miss Universe Organization provides women who participate in this international platform with the tools to affect positive change personally, professionally, and philanthropically serving as inspirational leaders and role models to their communities and fans around the world.  
 The 2022 71st Miss Universe event was postponed to a later date than originally .
Lifestyle  said "The global event, which will crown the 2022 winner, was due to be held last month, but was postponed to avoid a clash with the Fifa World Cup."  
This year during the Miss Universe coronation, they took a moment of silence to honor the 2019 Miss USA who had died earlier in the year.  
 "Miss USA Cheslie Kryst, who fell to her death from a building in New York City. She was 30 years old."  
The top 3 contestants were Miss Dominican Republic Andreina Martinez, Miss Venezuela Amanda Dudamel and Miss USA R'bonney Gabriel.  
When being asked the question "If you win Miss Universe, how would you work to demonstrate this as an empowering and progressive organization?"  
Miss Dominican Republic responded "I understand that the Miss Universe Organization was looking for an ambassador, somebody who is able to communicate a message. I have been working for women's rights for as long as I can remember. It's been my actual day every single day. I'm here to demonstrate, doesn't matter where you come from, your background does not define you, your courage and determination do. And I will show that by being working every single day showing my leadership and determination."  
Miss Venezuela response was "If I get to win Miss Universe, I will follow the legacy that many women across the universe has shown to be part of the organization because Miss Universe has demonstrated that they choose women who inspire with their messages and transform with their actions. And that's precisely why I would like to do I'm a fashion designer by profession, but I'm a designer of dreams as a woman. Thank you so much." 
Lastly Miss USA's response was "Well, I would use it to be a transformational leader. As a very passionate designer, I've been sewing for 13 years. I use fashion as a force for good. In my industry, I've been cutting down on pollution through recycled materials when I make my clothing. I choose sewing classes to women that have survived from human trafficking and domestic violence. And I say that because it is so important to invest in others invest in our community, and use your unique talent to make a difference. We all have something special and when we plant those seeds to other people in our life, we transform them and we use that as a vehicle for change."   FULL TEXT: Miss Universe 2022 final Question & Answer segment | Philstar.com 
In the end Miss USA won the judges with her answer and won the title Miss Universe. This makes Miss USA R'bonney Gabriel USA's 9th win which is the most a country has won the Miss Universe Title.  
For the 2022 Miss Universe crown, we have this lovely sapphire and diamond crown called "force for good."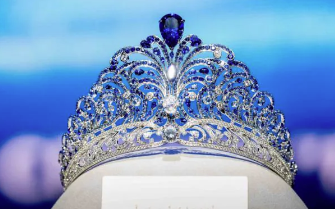 "The "Force for Good" crown features 993 stone settings, 110.83 carat of sapphire and 48.24 carat of white diamond." 
"Force for Good means turning pain into power and making a bright future by transforming obstacles into your own wisdom," said Miss Universe Organization owner Anne Jakrajutatip.