22-Year-old Diver lost at sea for hours before recused by family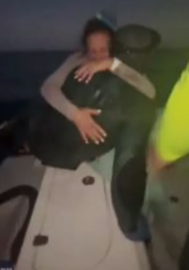 On Jan. 23, 22-year-old Dylan Gartenmayer was drift diving with friends when a current separated him from the others, The Gulf Stream pulled him away far and fast from the coast of Key West, Florida.    
It was time to head back to shore. The group was packing it up when Gartenmayer decided to get one final dive in. Meanwhile the current, though, had different plans. Reports say he was dragged down about 150 feet.  
When Gartenmayer reached the surface, watching his boat get smaller in the distance. He swam a mile when he finally was able to stop and catch his breath. The skies began to darken so Gartenmayer knew he was in a bad spot.  
"The current ended up taking me faster and faster from them, and it got to the point where the boat just disappeared. At that point, I realized things were starting to get serious," Gartenmayer said.  
It was nightfall and Gartenmayer had no sight of a boat or hope. He was alone in the middle of the ocean "Watching that sun drop was kind of like making my heart sink." 
 He shortly realized he would be in the water for an extended period 'Oh, this is going to be a long night out here.' Gartenmayer said.  
Around that time, The Gartenmayer family was contacted, and the Coast Guards were on the hunt. Tabitha "Tabby" Gartenmayer, the mother of diver, said she received the worst call in her life. 
"I got the call right after I got off work, and my ex-husband, his dad, said, 'Tab, Dylan's been missing for an hour,' and the way he sounded, it took my breath away,' "I couldn't even breathe." Like everything just went away, and I was just standing there stuck." 
Tabitha was reasonably terrified. She didn't sit idly by and waited for the Coast Guard to find him. She went against all odds and launched her own rescue mission. 
While Tabby Gathered the family, Priscilla Gartenmayer, the cousin of Dylan, was called about his disappearance.  
"We were told that he went down for a dive and did not resurface. So, we were thinking the worst," 18 minutes before sunset.  Priscilla and her boyfriend took out her grandparents' boat and sailed across the waters where Dylan Gartenmayer's friends last saw him.  
There was still no sign of him. However, Priscilla was familiar with the area, and said she knew her cousin would try to swim to a nearby reef if he saw it. But the closest reef was over 2 miles away. 
Joel Cruz, the boyfriend of Priscilla, spotted Dylan near the channel marker that marked that reef. "Oh Dylan! Oh my God, you made it! Oh God, Dylan!" His family and friends screamed as relief began to form,  
As his cousin pulled him out of the water The family sobbed tears of reassurance and joy.  
The emotional moment was captured in a TikTok that has now been seen by more than 31 million people.  
 Priscilla was right, he swam 2 miles to the buoys marking the reef and clung on it for life. 
Once the Coast Guard intercepted the rescue boat, they tended to Dylan.  
"His core temperature was slightly low, but besides that he was perfectly fine," Priscilla Gartenmayer said. "We later were able to pick up Dylan from the Coast Guard station and bring him home."