Horrific Train Collison in Athens Greece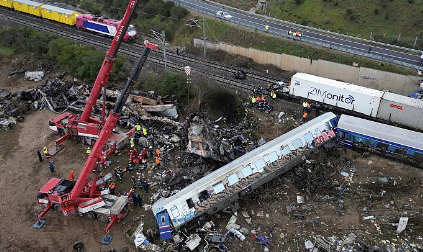 Last Tuesday, a horrific accident had taken place in Greece.  A passenger cart and a freight carrier had collided on Greece's busiest line, near Athens and Thessaloniki.  
Workers from emergency services and nearby citizens rushed to the crash site, helping as much as they could. It was a severely tragic scene. 
"This is an indescribable tragedy," government spokesman Giannis Oikonomou said, adding that 500 workers from emergency services were at the scene of the train crash. 
"We are pulling out people alive, injured… there are dead," one volunteer rescue worker told state TV. "We are living through a tragedy."   
It's an awful gruesome scene but the authorities had tried and did their best to save as many people as possible.  
"The evacuation process is ongoing and is being carried out under very difficult conditions due to the severity of the collision between the two trains," said fire service spokesperson Vassilis Varthakoyiannis.   
Some of the victims had described what it looked like during the incident. How they felt and what they did in reaction.  
"What we did was to break the glass, which was already cracked, and to throw the luggage outside the carriage, so we can land somewhere soft," Andreas Alikaniotis said, he was in the second carriage during the crash.  
People arent only just sad, they are very angry. Especially when the voice recordings between the train master and the train conductor were released.  
"Pain has turned into anger for the dozens of dead and wounded colleagues and fellow citizens," the rail workers' union said. 
The government blamed the crash on a "tragic human error", but everyone is blaming it on Greece's weak safety for trains.  
Responsibility will be assigned," Prime Minister Kyriakos Mitsotakis said, "We will work so that the words 'never again' … will not remain an empty pledge. That I promise you." 
Thankfully, the trainmaster had been charged with multiple counts of murder, because of his naiveness. He had claimed it was a technical issue and not his fault, but later on he admitted to making a mistake.  
The station master has been charged with mass deaths through negligence and causing grievous bodily harm through negligence. Upon arrest he blamed the collision on a technical fault, though later admitted to "making a mistake." 
This is a horrible situation that could've been avoided. Victims, families, citizens and people from all around the world have been affected by this, it saddens us all.  
 "There are no words to describe such tragedy", Greek metro workers had said.