Aaron Judge Sets New Record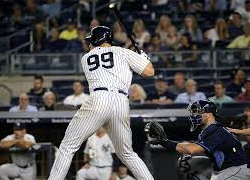 New York Yankees right-fielder Aaron Judge broke the record for home runs hitting his 62nd of his career while playing at the game October 4th against the Texas Rangers.  
Aaron Judge has been known for his several home-runs throughout his seasons with the Yankees and recently he has set a new record. 
Goodman has been on the Yankees beat for three seasons. 
"You may recall that Judge smacked 62 homers in the regular season, setting the new single-season record in the American League" said Max Goodman, who covers the New York Yankees for Sports Illustrated and FanNation.  He is also the publisher of Sports Illustrated and FanNation's Jets site, Jets Country.  
This isn't the first time he has set a record. His rookie year he was also impressing everyone with his batting skills. 
"In his first full season, he set the MLB record for most homers by a rookie with 49 dingers," said Becky Sullivan,who has reported and produced for NPR since 2011. 
Now Judge isn't only impressing his fans and teammates but also the President.  
"History made, more history to make," said Joe Biden, President of the United States 
Everyone is proud of Judges accomplishments, and many are becoming speechless. 
"It's getting hard to put into words what he's doing," said Aaron Boone, Yankees Manager. 
Even though he is breaking records and doing the things, breaking records is not what Judge says he is going out there to do. 
"I never really thought it would be fair to my teammates or the Yankees to be up here trying to chase a record. My job is to go out there and be the best hitter I can be," said Judge.