Apollo 9 and Gemini lV mission commander passes away at age 93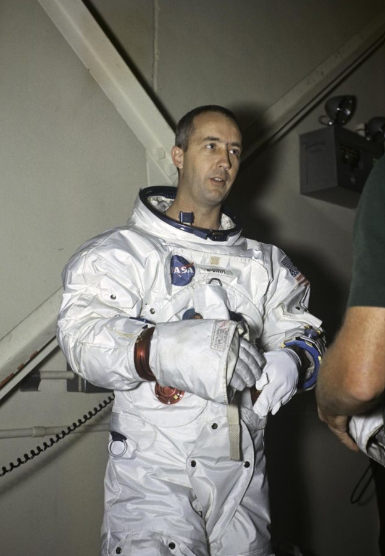 James Mcdivitt, a NASA astronaut who directed very important missions in space history, passed away on October 13th, 2022, in Arizona surrounded by his family at the age of 93.
"In 1962, Mcdivitt was selected by NASA to become an astronaut. He was chosen to pilot Gemini 4 — becoming the first-ever NASA rookie to command a mission," said Juliana Kim from The New York Times. 
Mcdivitt wasn't just an astronaut he was also in the Air Force.
"He joined the Air Force in 1951 and retired with the rank of Brig. General," National Aeronautics and Space Administration wrote. "He flew 145 combat missions during the Korean War in F-80 and F-86 aircraft. He was a graduate of the U.S. Air Force Experimental Test Pilot School and the U.S. Air Force Aerospace Research Pilot course and served as an experimental test pilot at Edwards Air Force Base, California. He logged more than 5,000 flying hours during his piloting career".
James Mcdivitt helped with so many important missions including the Apollo 9 flight.
"Mcdivitt's work during the Apollo 9 mission played a critical role in eventually helping land the first humans on the moon during the Apollo 11 mission," NASA says.
He played an important part in NASA's missions and went down in history for them.
"Mr. Mcdivitt's second and last space mission came in March 1969, when he commanded the Apollo 9 flight, a 10-day orbiting of the earth by a three-person crew," Richard Goldstein of the New York Times wrote.
He also helped with the landing of the Apollo 11 mission with commander Neil Armstrong.
Mcdivitt's hard work was not forgotten. He received many rewards for his service.
"Throughout his distinguished career, Mcdivitt earned two NASA distinguished service medals and the NASA exceptional service medal as well as two Air Force distinguished service medals, four distinguished flying crosses, five air medals and U.S. Air Force astronaut wings," Gina Martinez of CBS news states.
NASA history office made a statement grieving Mcdivitt's death.
"With heavy hearts, we mourn the recent passing of Korean War veteran, former test pilot, aeronautical engineer, and NASA astronaut James Mcdivitt. Mcdivitt was selected to be part of Astronaut Group 2 and went on to command Gemini IV in 1965 and Apollo 9 in 1969. Rest in peace.''
James Mcdivitt will go down in history and will always be remembered as a legendary person.