Midnights Review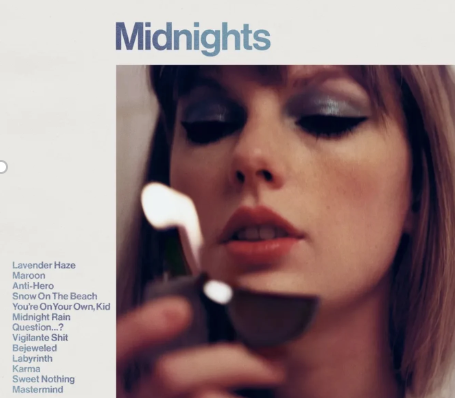 Taylors Swift's new album that has just came out on October 21st has surprised and disappointed fans yet became Spotify's most streamed album in a day.  
Taylor Swift does say she's spent nine albums excavating: the unpredictable rise and devastating fall of romance. People have enjoyed the fact that Taylor Swift's songs connect with each other to form a story. Making relatable, messy songs keeps people entertained and highly enthusiastic for the new album. 
Lizz Nass states, "While Swift's singer-songwriter albums have been my favorite for a long time, "Evermore" being at the top of my list, this album is making me rethink my choices. I don't say this a lot, but I think this is truly a no-skip album. Every song is a perfectly written story – not unlike her other albums – but this album does something different for me. Mixing her harmonies with synth sounds was the perfect choice, layering her words with just as much depth in the music." 
People who were anticipating the album Midnight had their expectations high just to be disappointed. 
 Elise Ryan says, "The album's weaker moments are the ones where that balance feels off. "Bejeweled" is a bit too candy sweet, with lyrics that feel like an updated, glittery take on "ME!" The much anticipated "Snow On The Beach," featuring Lana Del Rey, is poetic, pretty, and at times cheeky, but not as emotionally deep as the lyricists' combined power suggests it could be." 
These 13 songs are "a collection of music written in the middle of the night, a journey through terrors and sweet dreams." As Taylor Swift says, but as Elise Ryan disagrees and thinks as if it's not emotionally deep as Taylor Swift claims it to be. 
"Snow on the Beach" sketches an image of strange beauty in twinkling synth and violin, as warm background harmonies add a welcome coziness.  But listeners think this song is at times cheeky and that it didn't catch there ear. 
The song "Anti-Hero" is a 80s synth and has catchy melodies, peoples favorite lyric in the song is, "it's me hi, I'm the problem, its me." It does have a catchy melody and lyrics where you can't get it out of your head. But, people also argue that she could've said something other than "sexy baby". 
Before the album was released Taylor Swift teased the song "Lavender Haze" by telling fans she got the title from an episode of Mad Men claiming it's a "common phrase that was used in the "50s" to describe being in love.