Clam-flavored mayonnaise, sparking unexpected applause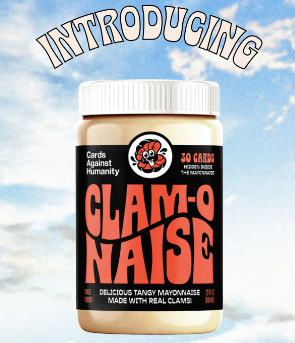 Cards Against Humanity, the hit party game company, recently launched a clam-flavored mayonnaise, sparking unexpected applause from food critics across the internet. 
Dubbed 'Clam-O-Naise', the bivalve sauce has commanded the attention of many, likely due to its off-putting marriage of flavors. Despite this, Emily Heil – a food reporter for the Washington Post – was willing to take a chance on the mayonnaise. 
"Salty, with a nicely acidic twang, the Clam-o-Naise proved to be a complex condiment," remarked Heil in a review. "[It] wouldn't seem out of place in a smart bistro." 
The surprisingly elevated flavor profile comes as no surprise to the company. 
"We worked with professional chefs and food scientists to get it just right," said the spokesperson for Cards Against Humanity in an email to The Takeout, a popular food culture site.  
Even after working diligently to develop a legitimate flavor, Cards Against Humanity predicted mixed opinions on the condiment. To further entice customers to try Clam-O-Naise, the company includes an official, playable game pack placed questionably within the package. 
"The first step was fishing out the pack of cards that were submerged in the jar," Heil recalled, " a process that only amps up the ick factor that the company seems to be going for" 
Even further, each package comes with a guaranteed prize claimed by scanning a QR code on the FDA-approved card packaging. 
"Win real pearls, clam-themed vacations, merch, or even a CAR," the company exclaimed on their website, cleverly alluding to their top prize: a 2007 Toyota "Clamry". 
The novelty of the product  — while exciting for customers — entertains the company's team, too. In their email to The Takeout, a spokesperson for Cards Against Humanity admitted that bizarre is the goal. 
"We create products that we would want to buy and do stunts that make us laugh," the spokesperson wrote. "That's the business philosophy. It's fun to play around with food and comedy, especially in a society where you can buy 20 different flavors of Oreos on a trip to Target."