Just Stop Oil's Van Gogh Protest: Helpful or Hurtful?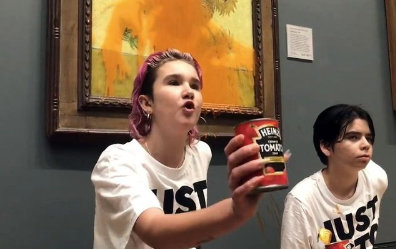 On the 14th of October, two activists from 'Just Stop Oil' threw canned tomato soup on Vincent van Gogh's 'Sunflowers' painting in the National Gallery. The protesters, known as Phoebe Plummer and Anna Holland, were arrested following what was shown on the video going around of the two girls throwing tomato soup on the artwork, then proceeding to glue their hands to the wall below it.  
 Anna Holland, one of the protesters, made a statement in the video, "What is worth more, art or life?" Holland said. "Is it worth more than food? Worth more than justice? Are you more concerned about the protection of a painting or the protection of our planet and people?" 
 Just Stop Oil, an organization made to discourage the burning of fossil fuels and oil, often holds these controversial protests that involve well-known pieces of art to draw attention to the condition of Earth's climate. Their motives are explained by Alex De Koning, a Just Stop Oil spokesperson "People are going to have to choose between heating and eating this winter, and that can be so easily avoided … [by] switching to renewable energies, which are currently nine times cheaper." 
 Alex De Koning continues, "We are not trying to make friends here, we are trying to make change, and unfortunately this is the way that change happens." 
 This event, and many similar movements taken by Just Stop Oil have sparked much debate in the community of environmental protection. There are those who fear that damaging property like this will have a negative impact on the group and the message they are attempting to send.  
One person who holds such a view is Michael Mann, a University of Pennsylvania climate scientist who believes actions like throwing soup at portraits, "alienates many people we need to bring into the fold. People who are natural allies in the climate battle will draw negative associations with climate advocacy and activism from such acts." 
  The National Gallery, the place where Van Gogh's 'Sunflowers' reside, states themselves that the portrait is "among Van Gogh's most iconic and best-loved works."  
By targeting a piece like Van Gogh's Sunflowers, Just Stop Oil gives themselves a name in the public eye, they make their cause known. Margaret Klein Salamon, executive director of the Climate Emergency Fund, which bankrolls Just Stop Oil believes, "In terms of press coverage, the Van Gogh protest may be the most successful action I've seen in the last eight years in the climate movement.", she claimed. "It was a breakthrough." 
 This situation puts a spotlight on what people consider ethical or not in the case of how people choose to protest. One thing is certain though, Just Stop Oil will continue to stand by and defend what they do. As Just Stop Oil states from their Twitter page, "Human creativity and brilliance is on show in this gallery, yet our heritage is being destroyed by our government's failure to act on the climate and cost of living crisis."