Justin Fields shows off some speed while breaking records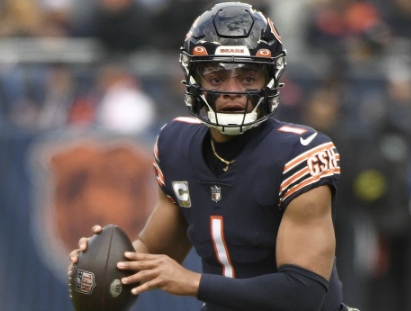 Coming from Ohio State University, it is no surprise that Justin Fields fits in so well among other NFL superstars. Fields is ranked as the third fastest quarterback in the league right now and is proving why he is. Running a 4.44 40-yard dash in the 2021 NFL combine, he shows off his arm and legs during games. 
Fields is even getting some respect from some of the speediest players in the game today.  
"I didn't know Justin Fields was that fast," was tweeted by superstar Tyreek Hill.  
Even Jaelan Phillips had something to say about it.  
"Justin Fields is a monster… Hes legit." 
Fields ran for 325 yards in the span of two games which broke the record, which was previously held by Lamar Jackson in 2019 (268 yards). From coaches, to fans, and even fantasy owners, Fields is making good impressions. Not only did Fields break the two-game span record, but he also has the most rushing yards by a QB over a five-game span. 
 Coming off a shaky rookie year, Fields is showing why he belongs in the NFL and why he is starting.  
"He's got tremendous speed and he's very strong. He steps on guys pretty fast. He doesn't do a lot of wiggling once he gets into that defensive backfield. He puts on the gas and does a good job. He understands angles and speed." Said Bear head coach Matt Eberflus. 
Even after playing two tremendous games, Fields was upset that the team couldn't get the W. 
"It's just where your priorities are as a player, is it to break records or is it to win? Personally, mine is to win. I don't care about breaking records. I just want to win games," Fields said after the game against Detroit.  
Being 3-7 and last in the division doesn't help either for Fields, but it doesn't stop him from playing his heart out every week.