South Korea's Deadly Halloween stampede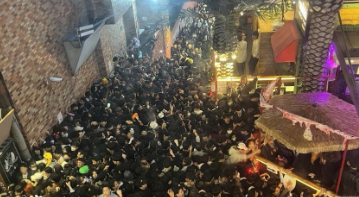 On the evening of October 29th, a crowd crush took place in Itaewon, a popular nightlife district in Seoul, South Korea.  
An estimated 100,000 people had gathered to celebrate Halloween as restrictions that were put in place due to Covid-19 had been lifted.  
At around 10pm, many of the crowds had begun to meet in a narrow alleyway where people began to push and fall over due to steep slopes.   
Zara Lily who was in attendance with her fiancé, were leaving a club when they saw the floods of people. 
"There were many times where there was a wave of pushing which made people fall forwards and then backward, just like ocean waves," she said.   
Another witness, Taiwanese model Angel Chiu, had run to the restroom only to come out and see what was happening outside. 
"It was so horrible. I thought I was watching a movie, a disaster movie" she said. 
The tragedy left 156 dead and 151 injured, primarily young adults. Many were taken to the Wonhyoro Sports Center, a local gymnasium. 
Here, there are also the belongings that were left behind by those trying to escape such as shoes, headphones, and handbags. 
South Korean President Yoon Suk-Yeol, issued an apology to the victims and the families and friends of those lost. 
"I do not dare to compare myself to the parents who lost their sons and daughters, but as the president who ought to protect the people's lives and safety, I am heartbroken."  
 "I am sorry and apologetic to the bereaved families who are suffering an unspeakable tragedy, and to the people who share the pain and sorrow," he said.