Innocent lives lost, with little cost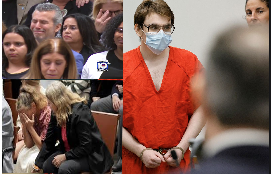 The Parkland Shooter, Nikolas Cruz recently avoided the death penalty in court as a result of the 2018 Marjory Stoneman Douglas high school shooting.  
Over the span of the last Four years, Cruz has been tested in court for 17 counts of first degree, and attempted murder. Recently, parents and family members of the victims as well as parents around the world are displaying their concern about the court case and are fighting for justice. 
"I hope the jurors that allowed him to live will regret their decision,", said Anthony Montalto, the brother of a victim of the shooting, "Every day I wish I had said goodbye like I should have" he also said. 
Parents and family members left devastated by the shooting have been repeatedly wishing
death upon Cruz for taking the "kind souls" out of their lives. 
One parent who took a strong stand in court is Anne Marie Ramsey, whose daughter was killed in the shooting. "Instead of taking care of us, they took care of you" … "You kept us there" said Ramsey about the night of the shooting, where dozens of families were held in a Marriott hotel on standby for their family members' well-being; Nikolas Cruz is "pure evil" in the eyes of Ramsey and many other parents and family members of the victims.  
 Debra Hixon was the mother of a teenage boy that was brutally murdered in the shooting and attended the hearing to give her opinion on Cruz "Not receiving the justice he deserved.", "There is no mitigating circumstance that will outweigh the heinous and cruel way you stole him from us.", said Hixon in the court hearing. 
This tragedy has not only affected the families of the victims, but it also has affected other parents in the USA that send their children to public schools. "I have so much sympathy for those parents and families, I don't know what I would do if this happened", said Virginia Koutouzis, a concerned parent that sends her 2 children to public schools in Florida. "Not in a million years would I have considered the possibility of a shooting, but now it's a reality, and I have to prepare my kids for it", she also stated. 
The tragic event has raised questions on the validity of the death penalty and has increased awareness for school shootings. The court hearing ended on Wednesday, November 2nd, where the jury closed out on Cruz's sentence, life without parole. An event like this makes people think, should someone be punishable by death? In the eyes of many affected by the shooting, yes, and it is necessary. 
Lori Alhadeff, mother of a 14-year-old girl gave her opinion on Cruz, "I hope you're miserable for the rest of your pathetic life. My hope for you is that the pain of what you did to my family burns and traumatizes you every day."