Transforming former data: fresh teachers introduce impressive backgrounds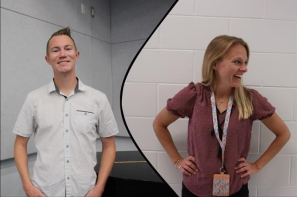 Bolstered by over a dozen new teachers, the school embraces an optimistic future after a sizable departure of staff in the 2021-2022 school year.   
  Spongers are well aware of last year's turnover of teachers. For some, it left an uneasy feeling; however, upon the reflection of new information and introduction of additional qualified teachers, a new leaf has turned over for Sponger nation.  
School administration provided all data specific to TSHS. PCSB was unable to provide a point of comparison. FLDOE has yet to respond to multiple requests for information.  
Recapping the personnel changes, 2 full-time teachers departed over the course of last year.  
Last summer, an additional 14 full-time teachers opted not to return.  
This year, though, the school had a decrease in student population that, along with the hiring of 13 new full-time teachers (as of the time of this article's writing), resulted in the current 19.8 student to teacher ratio, which is only marginally more than last year's to 19.3 student to teacher ratio.   
This year's slight ratio increase represents less than one additional student per classroom, which is based on an average for the entire school; therefore, individual classroom sizes may vary.   
At this time, the school has only 1 unfilled full-time teacher position: library media specialist.  
Nationally, however, there is an estimated shortage of over 36,500 teacher positions as confirmed by primary sources, news reports, the state's Department and Board of Education information, and institution documents. It is a possibility that this conservative estimate of the nationwide teacher shortage poses hiring challenges that trickle down to individual schools.  These ratios provide a quantitative assessment but fail to capture the intrinsic value brought into the classrooms by the newly hired teachers.   
  Ms. Larson, AICE Media Studies and AICE English Language teacher, for example, is new to  
Florida but brings an impressive academic resume in terms of both credentials and experience: two  
Bachelors' degrees (Arts & English, along with Science & Human Development) and a Masters in Education, as well as classroom teaching experience that began during her junior year while attending University of Connecticut.  
"Nothing else matters to me but being in a classroom with my students, my bubble," Larson said. "That's all I need."   
From the moment she arrived, Larson hit the ground running as she not only accepted a full slate of rigorous classes but also shouldered leadership responsibility for the yearbook and the school newspaper.  
"[AICE] Media studies is yearbook, media studies, school newspaper, level A, level AS," Larson said. "I can attempt to make it all happen" she added, earnestly laughing.  
  The band, widely recognized at the national level for its prestige, is a school treasure. With such high performance expectations, the program is led by musical directors who ensure the continuation of the conservatory's legacy.   
  Dr. Sexton, having earned his Doctor of Musical Arts degree in Instrumental Conducting with a secondary focus in Music Education from The University of Utah, is new to the Tarpon Springs Leadership Conservatory for the Arts. This is his first Florida high school — but his biography includes previous band directorship experience at multiple schools as well as national and international musical performance.    
  As the Associate Director of Bands, Sexton is frequently on the turf with the musicians. He shared that he prefers a student dynamic in which Sexton can motivate young adults while keeping a light hearted relationship.  
  "I'm always trying to make students comfortable," Sexton said. "I'm very much into social, emotional learning, but there is always a type of strictness to it because there's a purpose; there's always goals to achieve."  
  Sexton pushes students to new musical achievements, elaborating that the Leadership Conservatory extends beyond the classroom.   
  "I don't teach music, I teach people," Sexton said. "I just use music to do it."  
  The 11 new teachers not mentioned in this article similarly bring their own unique strengths and skills to their respective classrooms, further establishing an efficacious launch for this school year with support from the most recent numerical figures.   
Ms. Larson departed the interview with her outlook as a new teacher at the school. "It's been an overwhelmingly positive start, and I look forward to fully embracing the sponger life."