Tom Brady's Divorce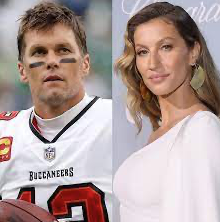 Officially, Gisele Bundchen, announced at the end of October that she wants to get a divorce with NFL football quarter back Tom Brady after he came back to playing football 45 days after retirement.  
Gisele claims to want a divorce for many reasons. Mainly because she feels like Tom does not spend enough time with his children and would rather continue his NFL career then spend time with his kids. "This is a very violent sport, and I have my children and I would like him to be more present," she said to the press. 
 Along with the thought of her children in mind, she also had vested interest in their relationship.  "You can't be in a committed relationship with someone who is inconsistent with you. Read that again." Bündchen responded with a prayer emoji in a tweet.  
Gisele told the press that she has tried explaining to her husband repeatedly her feelings about the situation and how important it is to her that he spends more time with the family. "I have had those conversations with him over and over again. But ultimately, I feel that everybody has to make a decision that works for [them]. He needs to follow his joy, too." 
She also goes into further detail about that topic, explaining how she has been supporting her husband though decades of seasons and now she feels that he needs to finally retire and spend family time with their kids and herself. "I've done my part, which is [to] be there for [Tom]. I moved to Boston, and I focused on creating a cocoon and a loving environment for my children to grow up in and to be there supporting him and his dreams," she said at the time.  
She follow this with taking responsibility for her children's success in life. "Seeing my children succeed and become the beautiful little humans that they are, seeing him succeed, and being fulfilled in his career—it makes me happy. At this point in my life, I feel like I've done a good job on that." 
In response to Gisele, Tom is also questioned why he is not ready to retire and why he does not feel like his NFL career is over yet. "I love the sport, I love the teammates, and I want to go do a good job for this team like I always have," he said.  
He continues to defend himself claiming that this lifestyle has not only affected his wife Gisele and his kids, but it affects him as well. "I haven't had a Christmas in 23 years, and I haven't had a Thanksgiving in 23 years, I haven't celebrated birthdays with people that I care about that are born from August to late January. And I'm not able to be at funerals and I'm not able to be at weddings," Brady said. 
Tom has claimed that he is still not satisfied and still feels like he can contribute more things for his team and for himself, "so, no retirement in my future," he says. He believes that his time is not here yet and until he wants feels ready, he wants to continue playing the sport he loves.