College parents send letters demanding quality food for their daughters at Spelman college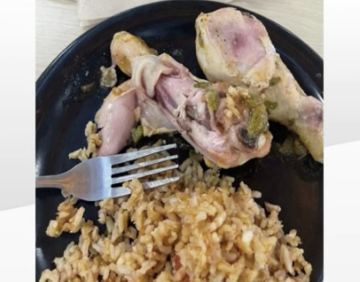 Parents of Spelman College students are infuriated with Atlanta College for feeding their daughters undercooked food. The college received a collective amount of letters and emails with complaints from the parents.  
 Alisha Gordan, parent of Spelman college student, said she received pictures of raw food that was served to her daughter.  
 "Is this a matter of palette? Or is it a matter of really having some challenges of being able to get access to fresh and proper meals," said Gordan.  
Many complaint emails of undercooked food and expired vending machine snacks were sent to the college's President, Dr. Helene Gayle.   
Spelman's Vice President for Student Affairs, Darryl Holloman, invited the parents to a virtual town hall where they explain how they feel about them ignoring their perturbation. 
 "We have and will continue to provide students with a positive health and wellness experience at Spelman College, which includes dining," says Holloman in a statement.   
Melissa Hickson, a parent from Texas, sent her daughter to the Atlanta school not expecting a tragedy like this. Hickson's daughter was a vegan before she entered Spelman, but has had to change her diet because she has not been satisfied with the college's plant-based options.  
"Initially, I thought she was being spoiled, because cafeteria food everywhere is not the best," said Hickson. Shortly after receiving photos of what's being served at the school, Hickson said "this needs to be addressed." 
Tina Hughes, grandmother of Spelman college student, says her granddaughter hasn't eaten the dining halls food in a month. "My granddaughter reached out to me to let me know she was very sick to her stomach, and she was pretty sure that she had food poisoning," Hughes said.  
After receiving calls from her granddaughter is sick to her stomach from a possibility of food poison, Hughes had to contact the school to have a better understanding of what's going on. Many of the students  refuse to eat in the dining hall now. "Parents are spending $3,200 for a meal plan that these girls aren't even using," Hughes said.
Darryl Holloman, Spelman's Vice President for Student Affairs; 
 held a virtual town hall meetings for parents to discuss an array of topics, particularly the college's finances. The students who have concerns with their dietary choices can meet with the school's dietitian to come up with a specific menu. Holloman stated,  "The supply chain and staffing challenges impacted dining services and parents believe this is an opportunity for Spelman to find a long-term solution."  
Parents feel like the college is trying to sweep this under the rug in hopes of the media and parents forgetting about it. "I feel like Spelman is sitting back and hoping that this goes away," said Hughes. "We are not going away."