Introducing Taylor swift's album, midnights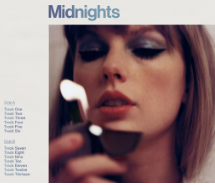 "Life can be dark, starry, cloudy, terrifying, electrifying, hot, cold, romantic or lonely. Just like Midnights, " Talyor swift said.
She wanted to give something people can relate to what we live every day, not only midnights but she dropped 3.am.
www.today.com stated a schedule of releases the days after the album release.  Swift made room for a 3 a.m. "chaotic surprise" the day "Midnights" dropped.
In the early morning hours of October 21,2022, Swift dropped 7 extra tracks, which she's calling "the 3am tracks" (as opposed to the "Midnights" tracks).
Hearing more from the fans, a TSHS student had said it really "opens up about her world." 
New York Times which said, "Midnights, stands a very good chance of being one of the year's biggest sellers Swift is the rare pop star who is emerging from the pandemic era just as strong as she began it — there still appears to be endless appetite for her intimate storytelling."
The album did get a lot of love but a lot of hate.  
The song which seems to be everybody's favorite is "Snow on the beach" featuring Lana Del Ray, but others may disagree.
Later, interviewing Ramiyah Gilliam from TSHS she had said "Lana del ray didn't get any part in singing."
Very harsh criticism on the new album another student Lariah (26) said her old music is better than her new music.
However, one TSHS staff said, "swifty for life!"  
When it comes to the new album, people are 50/50 until next with new celeb tea.