Dahmer impacting Halloween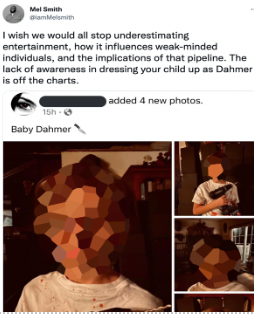 Kids should not dress up as Dahmer. The new Dahmer series has been in controversy since it arrived on screens. As Halloween approached, various Jeffrey Dahmer-inspired costumes and props had been put online. 
 Netflix 's most-watched top spot for nearly a month after its release and breaking streaming records left right and Centre. The series sparked social media eye as the uncomfortable portrayal of the cannibal serial killer.  
Not only was Jeffrey Dahmer a real person, who murdered real people, but his actions vilified and did  genuine harm. 
Nikki Ramos states, "some person dressed their very young son up as Jeffrey Dahmer & even had a bucket with fake Black body parts. Sometimes the level of violence they subscribe to is truly unbelievable."  
Honestly, it's sick to me how parents could allow their children to dress up as a serial killer.  
Kids should dress up as things that they are aware of– not something they are not.  They are not getting the right to choose and express what they want to be when parents are deciding for them.
Dahmer  murdered 17 men and boys in a spree of torture, dismemberment, sexual assault and even cannibalism from 1978-1991. The killer also photographed many of his victims throughout the course of his assault. 
Matt Hughes States "WAY too many people in this thread saying "let kids be kids!" You can't tell me an 8yo decided to be Jeffrey Dahmer for Halloween. The parents took the kids' Spiderman costumes and handed them feet in a bucket. It's the parents using their kids to be edgy, and it's gross." 
His victims' families say the attention has retraumatized them, while experts argued it could lead to a repeated cycle of Dahmer's violence. 
Mia Moody-Ramirez States, "There are some things that are off limits, and I would think that this would be one of them."