Jordan Travis, your future Heisman trophy Quarterback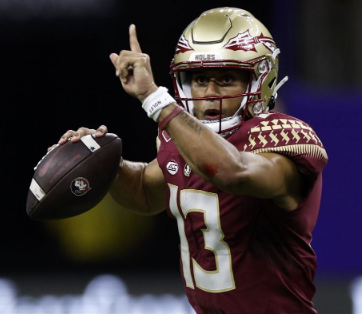 Jordan Travis, quarterback of the Florida State Seminoles, is returning for his final year of eligibility in NCAA football with the Seminoles. Travis has played five seasons in NCAA football starting out playing for the Louisville Cardinals in 2018 then transferring to Florida State for the 2019 season, said Tomahawk Nation News.  
The Florida State Seminoles Athletic website informs that Travis is 6'1, 212 pounds from West Palm Beach Fl, and is making Seminoles history by being the first player to ever have at least one passing touchdown and one rushing touchdown for four games straight. Other ways that Travis is making history is by being the fourth player in FSU history with at least 3,000 total yards and 30 total touchdowns in a season reports Tallahassee.com.  
Travis is an exceptional player, great role model, and core player for the Seminoles. "Bringing back Travis can only help with bringing back other players on offense," said Brendan Sonnone, writer for 24/7 Sports. 
Travis has been revolutionary for the Seminoles football program and has been having a record season for his career bringing the Seminoles' record from 5-7 in the 21-22 season to 9-3 in the 22-23 season and making the Seminoles bowl eligible for the first time since 2019.  
"Travis blew by his previous season-highs this season with 2,796 passing yards and 22 passing touchdowns, both more than he had in the previous two seasons combined,"  Curt Weiler, a senior writer for The Osceola said.   
Jordan Travis is getting exponentially better and progressing more with every season, Curt Weiler, a senior writer for The Osceola reports that Travis is one of 6 power 5 quarterbacks with at least 20 passing touchdowns and four or fewer interceptions. As previously mentioned, Travis has nearly doubled most of his stats from past seasons with more yards in the 22-23 season than in the rest of his seasons combined. 
Travis has a great relationship with coach Mike Norvell and has routinely praised Norvell for helping him develop as a quarterback  said the writer for 24/7 Sports, Dane Draper. Norvell has even said that he built his offensive strategies around Travis' skills and strengths.  
Overall, the rest of the Seminoles roster and coaching staff along with all the fans are excited about the next season with quarterback Jordan Travis and many other star offensive players to return for the next season.  
As Robert Gregson writer for Sports Illustrated suggests: "Travis isnt done in Tallahasse."