Case closed! Aaron Judge resigns with Yankees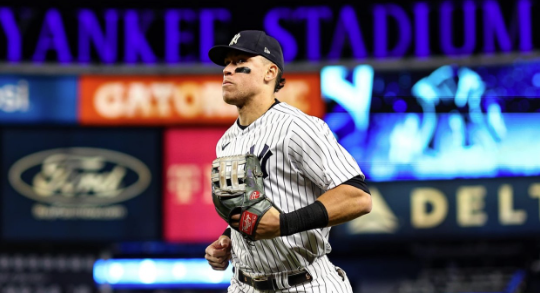 After keeping MLB fans on edge for so long, it was announced that Aaron judge would be rejoining the New York Yankees. Judge agreed to a $360 million 9-year contract which is now the richest deal in Yankees history and makes him the highest salary among all other position players in the league. While Aarons new contract is bringing him in tons of cash, he was very vocal about one thing when speaking to teams.
  "My legacy is more important than money." 
 The contract is now ranked as the 3rd highest paid contract ever, just behind Mookie Bett's $365 million 12-year deal with the Los Angeles Dodgers. The Yankees offered a $213 million dollar contract for 7 years before the 2022 season began, knowing it could be his last year in pinstripes. Judge declined this offer and showed some regret shortly after. 
"I'm just disappointed because I've been vocal that I want to be a Yankee for life. Very few people get this opportunity to talk extension. Me getting this opportunity is something special, and I appreciate the Yankees wanting to do that. But I don't mind going into free agency. It is what it is. At the end of this year, I'll talk to 30 teams. The Yankees will be one of those teams," Judge said. 
 While the Yankees were considered favorites to keep their all-star, Judge created tons of drama heading into his free agency. After declining the Yankees original offer, the San Diego Padres and San Francisco Giants were heavily pursuing Aaron. 
 The Padres were the first to push and offered $400 million for 10 years and then the Giants followed offering $360 million (amount of years unknown). It was believed that Judge was going to sign with the Giants due to a false report from Jon Heyman who believed that he had leaked information saying Judge was going to San Francisco and tweeted out that he would be signing with them. 
  Days before resigning, Yankees head coach Aaron Boone shared his thoughts on the situation: 
 "A guy of his stature and his greatness hopefully spends his entire career into Monument Park and into the Hall of Fame as a Yankee," Boone said.