Christmas Calls for Gingerbread Houses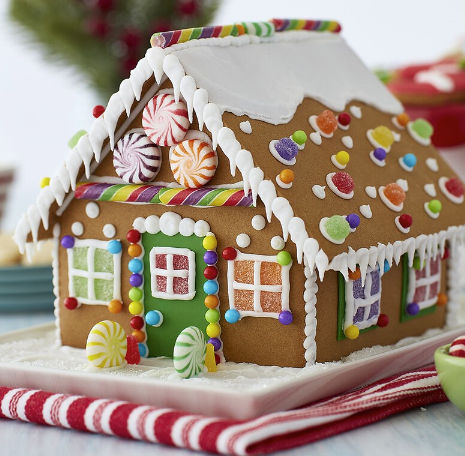 The holidays are approaching, and the best way to spread holiday cheer is to bake some delicious treats. A popular treat, perfect for this time of year, is gingerbread houses. 
Gingerbread houses soared in popularity when the Brother Grimm wrote Hansel and Gretel, in which the two main characters stumble upon an edible house made of bread with candy decorations in the forest. It soon became associated with Christmas, becoming a tradition in many families.  
"It's like a tradition for me as a kid. It's special for me to do with my family and it keeps the nostalgia alive," said Aubrey Stigleman ('24). 
Making gingerbread houses from scratch allows for better tasting cookies that are soft and chewy, yet crunchy with crispy edges. Kits generally contain barely edible, hard cookies.  
"The fact is that the taste of homemade gingerbread easily outranks the cookies in the kits," said Kristen from "The Never-ending list of Pros and Cons". 
As a symbol of family and home, building gingerbread houses creates a Christmas to remember. It is a fun activity that brings out the Christmas spirit and joy.  
"One of my fondest memories during the holidays is making and decorating gingerbread houses," said recipe developers at Ahead of Thyme. "It's a great activity that brings family and friends together, and so much fun to do with the kids year after year. You will need time and patience to bring it all together, but it's so worth it." 
The ingredients to make gingerbread houses calls for: 
3 cups all-purpose flour (spoon and leveled)

 

¼ teaspoon baking soda

 

2 teaspoons ground ginger

 
2 teaspoons ground cinnamon

 

½ teaspoon ground allspice

 

¼ teaspoon salt

 

6 tablespoons unsalted butter (softened to room temperature)

 

¾ cup packed light or dark brown sugar

 
1 large egg (at room temperature)

 

½ cup unsulphured dark molasses

 

1 tablespoon water

 

Assorted candies

 
To be able to stick the cookies together, royal icing is required. The ingredients are: 
4 cups confectioners' sugar (sifted)

 

3 tablespoons meringue powder (not plain egg white powder)

 

9-10 tablespoons room temperature water

 

Food coloring (optional for decorating)

 
To make crusting buttercream for decoration, you need: 
½ cup shortening (at room temperature)

 

½ cup unsalted butter (softened to room temperature)

 

4 cups confectioners' sugar

 
2 tablespoons milk

 

2 tablespoons pure vanilla extract

 

1/8 teaspoon salt

 
When you have all your ingredients, follow these directions: 
Print out the

gingerbread house template

and cut out the shapes. Set aside for step six. 

 
Make the cookie dough by whisking the flour, baking soda, ginger, cinnamon, allspice, and salt together in a large bowl.

 
In a large bowl, using a stand mixer or hand-held mixer, beat the brown sugar and butter together on medium speed for about two minutes or until completely smooth. Then, beat in the egg, molasses, and water on high speed. On low speed, slowly mix the dry ingredients into the wet ingredients until combined. The cookie dough should be very thick.

 
Divide the cookie dough in half, flatten into discs (4-5 inches in diameter) and wrap each tightly in plastic wrap. Let it chill in the refrigerator for 2 hours.

 
Preheat oven to 350°F. Line 2-3 large baking sheets with silicone baking mats or parchment paper.

 
Take the dough out of the refrigerator. Roll it out to about ¼ inch thick and lightly flour the underside of the gingerbread house template cutouts. Cut the dough into template shapes twice. 

 
Arrange the gingerbread house shapes onto the prepared baking sheets, around 3 inches apart.

 
Bake the house pieces for 18-20 minutes or until the edges are lightly browned. Bake the chimney pieces for 12-13 minutes or until the edges are lightly browned. Take out the oven when done and let it cool.

 
Construct the base of the house by using the royal icing to stick everything together. Let it set for at least 1 hour.

 
Add the roof pieces and let it set.

 
Glue the chimney pieces together upside-down. Allow it to set. Once it is set, glue it to the roof.

 
Allow the house to set for about an hour before decorating.

 
Prepare the buttercream by using a handheld or stand mixer and beating the shortening and butter together on medium speed for about 2 minutes or until creamy. Add confectioners' sugar, milk, salt, and vanilla extract and beat on low for 30 seconds, then increase speed to high and beat for 3 minutes.

 
Decorate using buttercream and assorted candies of your choice.

 
"It's incredibly satisfying, taking ingredients that don't amount to much on their own and combining them in such a way that you can create something extraordinary," said Jordan Gaddis, a baker.