The Noles Are Hot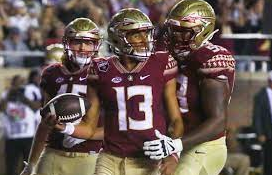 Florida State University is wrapping up their best season since 2016 which is a very good sight to see for Seminole fans. FSU is considered to be a very competitive football program, and with a combined 26-33 record in the past four seasons there has been a lot of concern in Tallahassee.  
Since the coaching change FSU has not been the same team, Peter Kostidakis from Tomahawk Nation agrees with this but states that the rebuild has started under new coach Mike Norvell. 
"FSU hasn't finished a season with a winning record since 2017 — and even that was a 7-6 record. In that time span, it has replaced two head coaches in Jimbo Fisher and Willie Taggart, with current head coach Mike Norvell having gone 8-13 in two years as he's attempted to rebuild the program." 
Florida State finished 9-3 with some big wins against highly ranked opponents such as Louisiana State University, and rivals such as the University of Florida and The University of Miami. 
These big wins were propelled by some big players such as QB Jordan Travis, DE Jared Verse, WR Johnny Wilson, RB Trey Benson, DB Jammie Robinson, DB Greedy Vance, and LB Tatum Bethune. 
Maybe the biggest contributor to the Florida state high powered offense is QB Jordan Travis. Travis finished the season with 2,796 passing yards, 367 rushing yards, and 30 total touchdowns with 22 passing touchdowns, 7 rushing, and one receiving touchdown.  
247 sports confirms Travis' return in an article in a recent announcement. This is Travis' final season, and he is a 6th year senior.  
"Florida State quarterback Jordan Travis recently announced that he is returning to Tallahassee for another season." This is great news for FSU fans as this gives them new hope to return to national championship form.  
After the great season a new pride has been found within this group, which is evident from the quantity of players returning, led by Mycah Pittman, Trey Benson, Tatum Bethune, and star QB Jordan Travis.  
A big piece of the FSU strong defensive line is defensive end Jared Verse. Verse finished the season with 74 total tackles, 21.5 TFL's, 14.5 sacks, and 2 forced fumbles. A disruptive pass rusher like Verse is an anchor for an already strong defense. Verse is projected to go 18th overall in the draft by Brian Wilson of CBS. 
A big question has been if Verse will return for the 2023 campaign. Teammate and roommate Trey Benson states, "there is a 'great chance' that his roommate, defensive end Jared Verse, could possibly return with him" 
A hot commodity in college football is the transfer portal, with the portal having its most action of all time. There is a lot of chances for the Noles to improve their already talented roster. 
 Josh Pick from Tomahawk Nation stated, "Mike Norvell and his staff just added another in former Miami Hurricanes DT Darrell Jackson." 
Another big addition is tight end Jaheim Bell, who is considered the be the fourth best player in the portal, first at his position. Greg McElroy states "Jaheim Bell will fit nicely into Florida State's offense. In particular, he provides flexibility on a creative offense." 
Senior Wide receiver Mycah Pittman has high hopes for the Noles, by stating "If we don't win a national championship or we don't compete for a national championship then that season is not an accomplished season for us." 
It should be a great season in Tallahassee next year as there is new hope of a national title back in the hands of the Noles.