Argentina Wins the 2022 World Cup and Lionel Messi wins that much-desired cup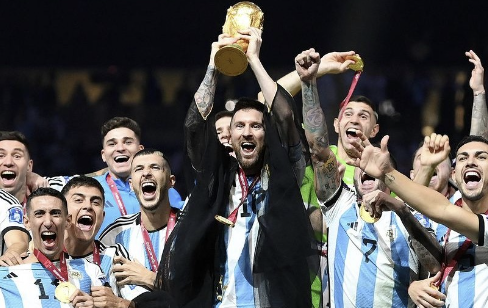 Argentina finally managed to win the World Cup, the talisman striker Lionel Messi was a key player, scoring two goals putting Argentina in front of the game.
 Lionel Messi inspired Argentina to glory in an amazing Qatar 2022 final. 
 After lifting 38 trophies and playing more than 1,000 matches, all Messi needed in his career was to win the World Cup with his national team.  
A runner-up medal in the 2014 World Cup was the closest Leo Messi got to the World Cup, but then 8 years later in Qatar, the winner of 7 Ballon d'Ors, and winner of other awards, crowned his career with the greatest achievement after a hard-fought final where the winner was decided on penalties. 
 After all the hype on Sunday, fans saw a surprising final, where an aggressive and dominant Argentina scored two goals in the first half, forcing France into a lot of mistakes. 
 Messi played better than ever, taking space, instigating attacks, giving passes, while France with Mbappe couldn't hold the ball in the first half. 
 In the first half there was a foul committed against Ángel di María in the France area.  Once the penalty was awarded, all eyes turned to number 10. Despite all the pressure, Messi managed to open the score 1-0. 
 Messi became the only player to score in the group stage, round of 16, quarter-final, semi-final and in the final of a World Cup. 
 After the first half, we saw a more dominant France, but nevertheless they still didn't open the scoring, everything looked controlled until Kyliam Mbappe opened the score with two goals in just 3 minutes.
 
 This was a very hard blow for Argentina since they practically had the game won. Both teams went into extra time, both teams scored a goal in extra time, the score was 3-3. 
 The match went to a penalty shootout and everything was going to be decided there with Mbappe and Messi scoring their attempts, before Argentinian goalkeeper Dibu Martínez made an opposing save on two penalties, giving his team the victory. 
Messi fulfilled his dream. "Obviously I wanted to close my career with this, I can't ask for anything more," Messi told Argentine broadcaster TyC Sports. "Thank God he gave me everything. 
According to Messi, this was his last World Cup, but Messi said he wants to continue "living a few more games being World Champion." 
 It means that the debates are over," Ballague told CNN Sports. "The [Cristiano] Ronaldo debate is over, the [Diego] Maradona debate is over, the best player in the world ever [debate] is over.