Odd Future Branches Out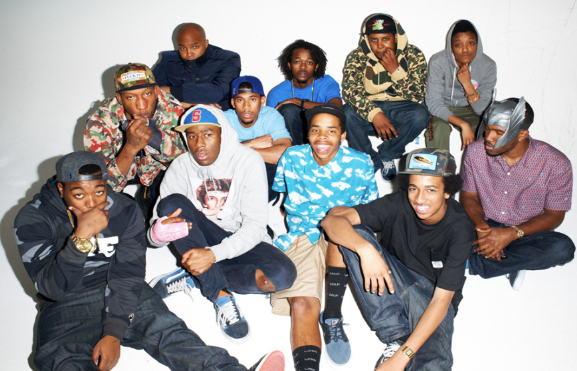 Odd Future, also known as OFWGKTA (short for Odd Future Wolf Gang Kill Them All) is a hip-hop collective that was formed in 2007. The group was founded by rapper and record producer Tyler, the Creator, and it includes several well-known members such as Earl Sweatshirt, Frank Ocean, and Syd. 
Odd Future was well known for their controversial lyrics and unconventional style, which often involves a blend of hip-hop, punk, and alternative style music. The group gained a significant following in the early 2010s, and they have released a few successful albums and mixtapes since then. 
Since the collective began, Odd Future has had a multitude of artists "blow up" from music and their creative endeavors. Group founder Tyler Okonma has released a plethora of studio albums, with his last album, "Call Me If You Get Lost," earning him another Grammy to go alongside his very decorated resume. In the past 5 years, Okonma has broadened his creative horizons by experimenting with fashion, different music genres, and even going as far as different scents, dropping 2 different perfumes in the past year.  
As time goes on, it seems that Tyler's creative vision only gets stronger. MC for his most recent album DJ Drama says "It has that Gangsta Grillz feel, but this is Tyler's album. I wanted to relinquish some of the control and let him do what he always dreamed about." 
Former member, Frank Ocean has also had a similar journey artistically. Frank started out as a ghostwriter for much bigger artists like Beyonce and Justin Bieber and eventually branched out posting his first studio album, Nostalgia Ultra in Feb 2011. Since then, Frank has won an abundance of awards for his musical contributions, started a jewelry brand (Homer), and took his creative vision to an entirely different level. In 2016, he dropped Platinum RIAA certified studio album Blonde. Since then, he has been musically inactive, only coming out with 9 singles, none of them dating past 2020.  
Other members have also been doing things individually with members like Lionel Boyce starring in the critically acclaimed FX series, The Bear as the cake dresser, Marcus. Travis "Taco" Bennett plays Elz, in the show Dave.  
Artists like Earl Sweatshirt and Syd the Kid are other major parts of Odd Future alumni success. Earl has a very steep catalog of deep, retrospective music that reflects himself and his mind with Some Rap Songs being Grammy nominated for Album of the Year in 2018. Syd, after the breaking up of Odd Future, joined another music band, The Internet, alongside artists like Steve Lacy and Matt Martians, also going on to win a Grammy for their debut studio album, Ego Death. 
To say the least, Odd Future was stacked with potential stars, who since their fallout, have each gone their separate ways and made waves in pop culture.