Do you actually hate pickles?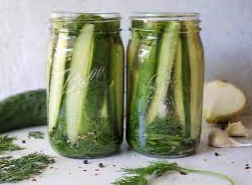 Pickles; you either love them or hate them. The reason people hate pickles is because they have only had bad pickles and do not know what they are missing. However, it's impossible to try a fresh, homemade pickle and not love it. 
 Many people do not realize how easy it is to make pickles at home and how good they turn out. Making pickles is also great since there are many things to add that change the taste, such as dill for dill pickles, garlic for extra flavor, or red pepper flakes for spicy pickles. Homemade pickles are also way healthier since they don't have preservatives or tons of added salt. Store bought pickles can be made months before they are found on the shelves of a store, which makes them mushy and unhealthy. Homemade pickles only take about a day, and they are ready to eat! I love making pickles the night before school and when I get home im always excited to eat them! 
Here are the ingredients for homemade pickles: 
1 medium-to-large cucumber or 2 small cucumbers 

 

½ cup water, at room temperature or cooler

 

½ cup apple cider vinegar, white wine, or rice vinegar

 

1 ½ teaspoons fine sea salt

 

1 teaspoon red pepper flakes (optional, for heat)

 
 ½ tablespoon of freshly ground black pepper

 

2 sprigs of fresh dill, roughly chopped (about ¼ cup)

 

2 cloves garlic, peeled and smashed

 

1 bay leaf

 
To make pickles, just get a glass jar with a lid and add all the liquids and seasonings, then slice cucumbers however preferred and add them and let sit for a day. They will last about a week in the fridge. It is such an easy recipe, and it takes less than 10 minutes. You can also use several types of cucumbers. Some will be crisper, but they will still turn out good despite the type of cucumber. 
I'm always talking about pickles around my friend and when i asked if she would make homemade pickles Anna Wagman said," I love pickles everything about them! I have heard so many good things about homemade pickles and I cannot wait to make them soon." 
I asked around to see what people thought about adding their own spices to their pickles to make their favorite flavors. 
 In reply to this senior Elle Cochran said," I like the idea of adding different seasonings to pickles, especially to make spicy pickles. I have never made my own pickles before, but I am not against it." 
The main reason people do not like pickles is because they have had bad pickles but making this recipe will ensure that you are getting the best pickles! These pickles are so fresh, healthy, and flavorful! Everyone should make this recipe because even if you do not like pickles, you will change your mind! 
 Even people who don't like pickles were intrigued by the idea of homemade ones.  
Senior Lara Segovia said, "Store bought pickles are normally not fresh or crunchy, but I feel like a homemade pickle would be a whole different experience and more refreshing and yummier even if I don't typically eat pickles. "