M3GAN: Wherever I Go, She Goes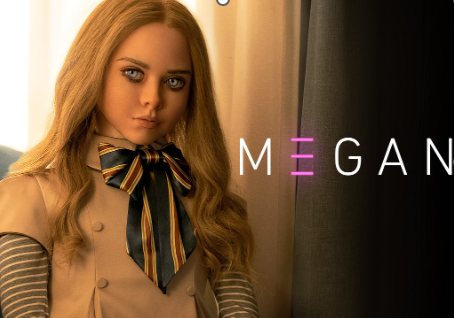 The movie M3GAN is the first big release in theaters in 2023. The horror film features a robotic toy that turns into a killer.  
M3GAN follows the story of Gemma, a toy engineer who becomes the caretaker of her niece after her parents die in a car accident. Gemma's most recent project M3GAN starts as a reliable comfort to the household and Cady. However, before Gemma can present the brand-new invention to the world, things go south fast. 
M3gan is not only scary but funny, in one of the scenes Gemma's boss is being chased by M3GAN dancing. This dance gained popularity online even before the film released, many people are doing it on TikTok. Not only have people recreated the dance, but they also made memes out of it. 
Kitty Chrisp states, "what follows is an unnerving, hilarious ride in which you're not sure whether to laugh or cry." 
Another funny moment in the movie comes about halfway through the film, after M3GAN attacks a boy harassing Cady and sends him rolling down a hill and into oncoming traffic. Cady is upset by this and to comfort her, M3GAN decides to sing her a lullaby version of "Titanium." 
The choice to have M3GAN sing "Titanium" reflects M3GAN'S purpose in life, to protect Cady. By being "bulletproof", she wouldn't let any harm reach Cady. 
"The random song choice sent audience in fits of laughter, because truthfully, did anyone expect the murderous doll to burst out into song?" Lara Emde said.
Nevertheless, M3GAN is still a horror film, even with its outlandish and amusing scenes. 
Although she is a doll, others seem to think her face and movements emulate a human child. The eerie combination of toy and person gives the audience an unsettling feeling. 
Nitish Pahwa states, "Yet, to me, the most chilling aspect of the movie doesn't come from anything you might expect: the offscreen murders, and M3gan's deranged humanoid face."