Ladies and gentlemen, Lisa Marie Presley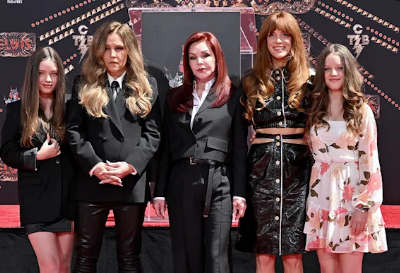 Lisa Marie Presly, daughter of Elvis and Pricilla Presly, passed away earlier this month. The family asks for privacy as Lisa Marie's eldest son passed away just two years prior.
Lisa Marie was born in 1968, the only daughter of Elvis Presly. When her father passed, she continued to carry his Legacy and took care of the estate known as Graceland. 
 In the later years, she went on to have four children. Her eldest daughter spoke at her memorial.
"I remember how it felt to be loved by the most loving mother I have ever known. I remember how safe it felt to be in your arms. I remember that feeling as a child, and I remember that feeling two weeks ago on your couch. Thank you for showing me that love is the only thing that matters in this life. I hope I can love my daughter the way that you loved me. I am a product of your heart, my sisters are a product of your heart, my brother is a product of your heart. We are you; you are us," Keough's letter, posted in CNN, also said. "My eternal love, I hope you finally know how loved you were here. Thank you for trying so hard for us. If I did not tell you every day, thank you." 
Her mother Pricilla also spoke at the memorial while heart broken and devastated by her daughters passing, she said," "They are profoundly grateful for the support, love, and prayers of everyone, and ask for privacy during this exceedingly tough time." You can tell her loved ones really admired and adored her, she was truly the greatest mother and daughter possible.
Her ex-husband Michael Lockwood, with whom they share two twin girls gave this statement, "We are all reeling from the sudden passing of Lisa Marie Presley, the mother of my two beautiful twin daughters Harper and Finley."
Someone who also gave a statement was Austin Butler who played her father in the Elvis movie he sat right behind the family at the estate during her memorial and was with her at the Golden Globe awards.
He made a statement to ENews saying that ""I am eternally grateful for the time I was lucky enough to be near her bright light and will forever cherish the quiet moments we shared," shared Butler in a statement to People. "Her warmth, her love and her authenticity will always be remembered." 
This family has gone through so much, but they know Lisa Marie would want them to carry on the legacy with joy and love in their hearts, a quote that really describes this really challenging time is Lisa Maries quote about loss," I've been through so much in my life. I have seen so much. I know how fast things can change. I know someone can be here one minute and gone the next."www.brainyquote.com  
Rest In Peace, Lisa Marie Presly