Is Puss in Boots: The Last Wish worth a watch?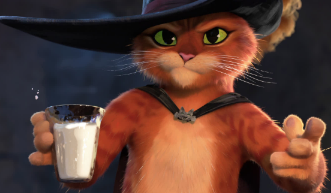 DreamWorks' Puss in Boots: The Last Wish has been earning high praise from viewers since its release in December. 
The Shrek spinoff starring Antonio Banderas has raked in a whopping $555 million dollars despite its mid-range budget of $90 million. Rather than mirroring the sequel's art style to the original movie, producers allocated a large portion of the expenses to develop a storybook illustration feel in the design, resembling the studio's previous film The Bad Guys. 
"The trailer just has a lot of fun visuals in it," said Parker Carlson, a senior who admired the new artistic direction of the Puss in Boots series. "I thought it'd be a fun movie to watch!" 
Carlson, who went into the theater with low expectations, was pleasantly surprised by the quality of the fantasy-adventure film. 
"I didn't expect it to be as good as it was, you know? I just thought it'd be like every other silly kids' movie these days where they just make a lot of jokes about the movie – then the ending is like 'friendship is great!'," Carlson joked. "But it was actually so much deeper than that. 
Instead of going with the safer choice of a standalone, easily digestible message like bravery or friendship, the film adds depth by commanding attention to the courageous Puss's only fear: death. 
"A big theme in the movie is death, which seems really dark for a kids' movie, but the way they portrayed it was just perfect," praised Carlson. "I think the message that was held in the movie was just really good." 
While he did not emerge a brand-new person upon exiting the theater, Carlson did leave highly impressed by the movie and elaborated in a brief rating. 
"I rate the movie four out of five stars because it didn't have me, like, in tears at the end," admitted Carlson. "But it did have me thinking, 'wow, that was a good movie!' I didn't expect that." 
Although the movie was intentionally aimed toward children upon its release, Carlson believes that the target audience could be extended to a larger demographic. 
 "I wouldn't recommend it to people who don't appreciate corny, childish humor because that's what it mostly consisted of," Carlson noted. "But I'd recommend it to anyone's who's just down for a good time. It's really a movie you could play at any time. It's not a 'too-sad' movie. I mean, it gets deep, but it's overall a happy, fun watch."