BTS member Jin (Kim Seok-jin) recently became the first member of his group to begin his mandatory military service in South Korea, at Yeoncheon base camp in Gyeonggi-do, on December 13, 2022.  
For years, fans have been wondering when the members of BTS would join the military. Under South Korean law, all able-bodied male citizens must serve a military term of 18-21 months by the age of 28. Jin, and several other BTS members, are already reaching age 30.  
This problem had been addressed by former president Moon Jae-In.    
"The Order of Cultural Merit awarded to BTS by former president Moon Jae-In in 2018 allows the seven members of the boyband to enlist at 30 instead." said Journalist, Gladys Yeo, from NNE.  
Jin being the oldest member of the group, enlisted at the end of 2022, December 13th, officially beginning his mandatory military service.
"According to an October 17 statement from Big Hit Music, the remaining members of BTS will also carry out their military service according to their individual plans," as stated in Jin becomes first BTS member to begin military service (nme.com).  
 This suggests that other members of BTS, or the entire band, will be enlisting around the same time. With seven members in total, and an age range of 24-30, rapper Suga is the next to enlist as he turns 30 this March (2023).  
The statement from Big Hit Music added that, "both the company and the members of BTS are looking forward to reconvening as a group again around 2025 following their service commitment." 
BTS seems to have a plan, whether that plan is to disband until 2025, for all members to complete their service, won't be known until it happens.  
On the day of Jin's entrance ceremony, A time for  Jin to be observed by military personal and family, it was requested for fans to refrain from coming. 
NNE states, "Police officers in Yeon-cheon prepared for Jin's arrival at the military base by setting up several road closures and deploying an ambulance on-site in case of overcrowding."  
Hundreds of fans went anyways. As one last goodbye, this event was crowded with fans, wishing Jin good health and a safe return when his service was up. Before the official announcement, fans were unaware of his change in statues until Jin himself posted a photo.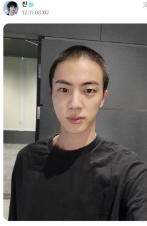 Jin of BTS Begins Mandatory Military Enlistment During Band Hiatus – Rolling Stone, quotes a BTS fan who turned up at Jin's enlistment, told the New York Times, "We are shocked [that it happened] so quickly and see he cut his hair yesterday, I'm very, very sad and finally realized this is real."    
The sudden exposure to Jins enlistment hit the BTS community (BTS ARMY) hard. It was always known that they had to enlist sometime, and with the state of the world right now, it's looking rather scary. 
To Jin, however, it's the right time and right thing to do.  
BTS member Jin states, "I think the country sort of told me, 'You're doing this well, and we will give you a little bit more time,'" Jin told Rolling Stones last year. Military service, he added, is "an important duty for our country. So, I feel that I will try to work as hard as I can and do the most I can until I am called."