Environmental Activist Vs. Cop City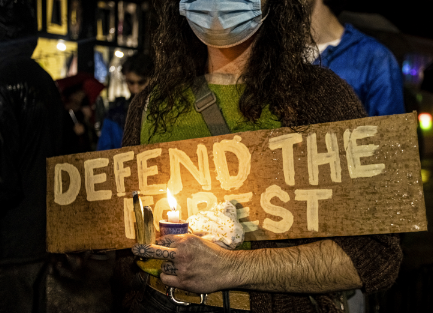 The environmental activist of Atlanta, Georgia are protesting the new Atlanta Public Safety Training Center or "Cop City" in South River Forest. 
On January 18th the protest to stop Cop City got out of hand. Manuel Esteban Paez Terán pulled out a gun and shot a state trooper. Officers then shot and killed Manuel Esteban Paez Teran also known as Tortugita. 
'The killing has stunned and shocked not only Tortuguita's family and friends, but also the environmental and social justice movement in Georgia and across the United States," Arwa Mahdawi, Columnist, Guardian US said. 
Many of the people who support the movement are trying to fight for Manuel. Manuel's mother is willing to take legal action. 
Manuel's mother stated, "I will go to the US to defend Manuel's memory … I'm convinced that he was assassinated in cold blood."  
However, the activists will not give up on protecting the South River Forest. 
"Activists have moved into the forest, and their efforts to block construction," said Alessandro Marazzi Sassoon and Rick Rojas journalist for The New York Times. 
The protesters believe that Cop City isn't going to do any good. 
"The training facility would not help the city's crime problem," The environmental activistic explained. 
A group of protesters decide to take matter into their own hands. 
"People dressed in black marched along Ellis Street and Peachtree Street, the group started breaking windows and attacking police cruisers," said the police chief. 
6 people were arrested. 
One of the groups made this claim, "The police have raided the forest for over 7 months, destroying material by trashing camps and water supplies." 
People who support the movement continue the fight in honor of their friend whom they lost. 
"No one can bring our friend back to us. A life has been taken and the machines continue," the protesters said.