PETA defends Kylie Jenner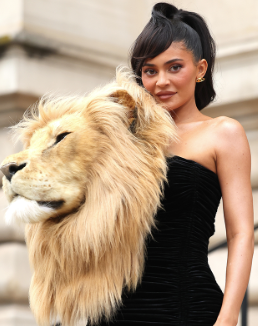 Animal rights nonprofit People for the Ethical Treatment of Animals (PETA) defended Kylie Jenner last Tuesday amid backlash over her dress featuring a realistic lion's head during Paris Fashion Week. 
Jenner shared her look on Instagram Monday, thanking Schiaparelli designer and creative director Daniel Roseberry.  
"BEAUTY AND THE BEAST. thank you @danielroseberry and @schiaparelli for such an special morning. wow i loved wearing this faux art creation constructed by hand using manmade materials. beautiful beautiful," said Kylie Jenner as she wrote alongside a series of photos. 
According to TMZ, animal activist group PETA approves of the young billionaire's shocking Paris Fashion Week look. 
"Kylie's look celebrates lions' beauty and may be a statement against trophy hunting, in which lion families are torn apart to satisfy human egotism." said Ingrid Newkirk the president of PETA when talking to TMZ.
Social media users accused Jenner of promoting trophy hunting after she was spotted wearing a striking black Schiaparelli Haute Couture gown with an embroidered lion head attached to her bodice during an event on Monday. 
The animal head was created from "hand sculpted foam, wool and silk faux fur, and hand painted to look as life-like as possible, celebrating the glory of the natural world." They emphasized, "NO ANIMALS WERE HARMED IN MAKING THIS LOOK," said Daniel Roseberry 
Schiaparelli's spring 2023 couture show included three looks featuring the lifelike animal heads, which were modeled by Irina Shayk, Naomi Campbell and Shalom Harlow. 
While Jenner, 25, made sure to specify that the lion head was "faux" and "manmade" in her Instagram post showing off the outfit, that didn't stop commenters from criticizing the couture creation en masse. 
"Animals are not trophies," one wrote, while another added, "As an African I'm extremely offended. The implication is quite disturbing."