SAT is Going Digital: No more Paper and pencil for good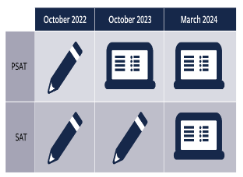 The College Board has made a numerous changes to the SAT in order to upgrade the test to synchronize with what has become the modern familiarity to the era of digital testing. The College Board also considers going digital will help make it less stressful for students. So far, some students have taken the new SAT exam and are giving their feedback in support of the SAT update. 
"I believe the new test reflected my studies more than the old one did," says 16 year old Hugo Barrilon. 
Not just Barillon but many other students have taken a pilot launch of the digital version of SAT in which have gathered some data together.  
 "80% of participants found the new format to be "less stressful" than the paper test, said the College Board as well," said the Pilot Launch. 
SAT has changed the reading section to be more evidence based questions from articles and the vocabulary. 
"What will be helpful to students is the change in the vocabulary section that has been redesigned to prioritize defining more commonly used words in context rather than the notoriously obscure SAT vocabulary of previous test versions." 16-year-old Hugo Barrillon says, "I noticed that in the reading, there were a lot more 'evidence-based' questions…You would have to find a source from the text to support your answer to the previous question. That was definitely different." 
For the math section of SAT they have switched the old math style to common core where it the questions are more real world application based. Although The Conversation are concerned that this may not be much of a helpful change for students who have not been taught the Common Core math style.  
Ultimately, the goal of the SAT is to reduce the amount of strain it has on its testers and to be more accessible for people in the modern digital age.  
"Some of the rigidity, stress and the length of the test, we could only make those kinds of changes going digital," said Priscilla Rodríguez. 
The hopes are that by Spring of 2024 this will become the new favored norm over the old fashioned test.  
"It's about time that they've moved away from paper and pencil," says Kent R. Hopkins, Vice President for academic enterprise enrollment at Arizona State University.