"Flowers" breaks records, sparks conversation
Miley Cyrus's new song, "Flowers", has hit new records, peaked on the Billboard 100, and sparked lots of conversation amongst listeners on all platforms.  
Cyrus is known for creating controversy through her music and a recurrent theme seems to be her ex-husband, Liam Hemsworth.  
In 2013, Miley had one of her most iconic era's where she cut off all her hair and dropped "Wrecking Ball" which quickly climbed to #2 on the iTunes chart. However, this is about her newest release "Flowers" and her 2013 era deserves a whole different passage.  
The song dropped on January 13, 2023, which also happens to be Hemsworth's birthday. Coincidence? Debatable. Fans and followers were quick to point out all the "easter eggs" within the lyrics and music video.  
The lyrics mirror that of Bruno Mars' "When I was your man" which has been rumored to have been Liam's song dedicated to Miley. The lyrics and beat side by side prove that it was no mistake to make her song sound just like the 2012 hit.  
As far as references and coincidences go in the music video nothing has been confirmed but a lot has been assumed.  
Fans across all social media platforms, especially TikTok, have reported similarities in the outfits Miley chose to wear in reference to her ex-husband and location as well.  
Miley's gold dress has been compared to look quite similar to that of Jennifer Lawrence's dress that she wore for the 2012 Hunger Games Premiere. Liam Hemsworth starred in that movie as well working along Lawrence and rumors flew that they had an off-camera romance.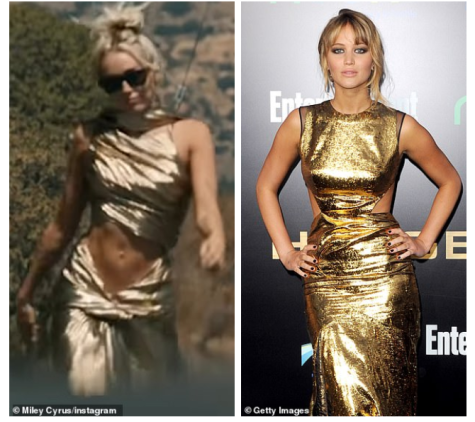 2012 just seems to be a big influence on this song as a lot has been brought back up from that year. Cyrus was also seen in the video wearing an oversized tuxedo that is rumored to be the same one Hemsworth wore when he told Miley to behave herself for once, whilst on the red carpet.  
Again, a lot of these rumors are simply speculations but the idea that they could be true is an incredible artistic move on Cyrus's end and incredibly amusing for all the viewers. 
With all gossip aside, it is no doubt that Miley Cyrus's song hit new peaks and achieved new records. "Flowers" easily took the record for most streamed track on Spotify in one week with a surprising 96,032,624 listens.  
 Billboard Hot 100 noted that, "it notches the biggest worldwide streaming week for a soloist, and the second-greatest week overall, since the Global 200 began in September 2020."  
It really is no surprise that her single skyrocketed across all platforms due to her reputation and the execution of the song and release date itself. Especially since her last album was 3 years ago, so any new music after that period of time is bound to do well.  
The full album is set to release on March 10th,2023, and it just makes the world wonder if "Flowers" is simply a sneak peak of what is yet to come.