Red Hot Chili Peppers reinvents itself by releasing their new album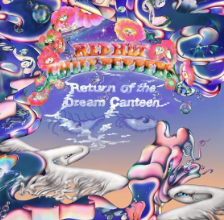 Red Hot Chili Pepper released their second double album which leaves critics with mixed opinions saying it is too different from their previous works. 
On October 14th of this year, the Red Hot Chili Peppers released Return to the Dream Canteen, another double album that was released this year the first one being unlimited love. 
 Music reviewer Marty Sartini Garner said "Dream Canteen is overlong, generous in spirit, inconsistent in execution, and puffed up with fraternal charm." 
While some people see this new album in a bad view plenty of others see this as new and a good step new step for the band.  
Warner Records said "The news of Return of the Dream Canteen's imminent release marks the band's second album release of 2022, hot on the heels of the platinum-selling chart" 
The band decided to go back to there roots and play from their heart putting all of their soul into their music which they feel that this album completely encapsulates. 
 "A beautiful bit of chemistry meddling that had befriended us hundreds of times along the way," said the Red Hot Chili Peppers. "Once we found that slip stream of sound and vision, we just kept mining. With time turned into an elastic waist band of oversized underwear, we had no reason to stop writing and rocking. It felt like a dream."