Wednesday on Netflix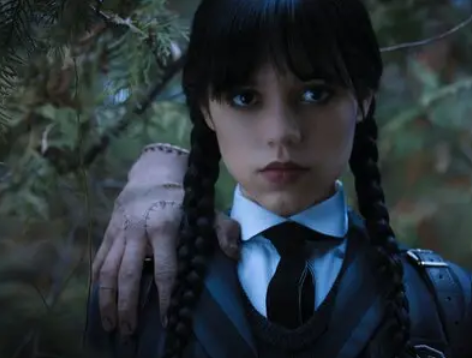 The new Wednesday Addams TV show became Netflix's surprise hit of 2022, starring Jenna Ortega. This is the first time the Addams Family is back on screens since the 1990s.  
People really enjoyed Jenna Ortega playing as Wednesday, and they believe she really brought the show together. Especially her ability to show no emotion and act with her eyes. 
Tim Burton made it clear that after he saw her not blink, he wanted her to not blink for the rest of the show. 
Ortega's performance as Wednesday definitely plays a major role in that success. Given the character's apathy and generally morose disposition, it can be hard to bring believable energy to the table. However, Ortega's ability to act with her eyes and the choice to save the few emotional moments for when they really matter make Wednesday an effective lead," Amelia Emberwing said.
The show has surpassed the Dahmer series for the most views on Netflix. Which makes Wednesday the second most watched show of all time.  
Fans that have been around since the films are also dissatisfied with not setting Wednesday against normality like the films did. 
Lucy Mangan states, "It loses something by not setting Wednesday against normality, as the films did, and by having a more fissured version of the Addams clan. The love and unity of the family against the world was always one of the great pleasures, in whatever incarnation you met them. But it has enough wit, charm and propulsive energy for that not to matter as much as it might have. Certainly, the 11-year-old I keep on hand to test programmers aimed at the younger demographic was rapt for the whole series and proclaimed himself deeply satisfied by both its resolutions and its cliffhanger." 
Wednesday is mainly about her attempting to solve a grisly murder that occurred in the woods outside of her new school, Nevermore Academy. She also digs into the history of Jericho, the small town that plays host to the school and its founding father Joseph Crack stone. A notorious witch-hunter who has a bloody connection to one of Wednesday's ancestors. 
Jenna's choreographed dance in the series has gone viral on tiktok. Lady Gaga who sang the song 'Bloody Mary' as fans put the song over Jenna's dance, made a video dressing up as Wednesday and doing the dance. 
Along with many other people, Jenna has taken over social media.