The UFC Invites New Tiny Troublemaker, Starting New Contract Causing Problems In The Ring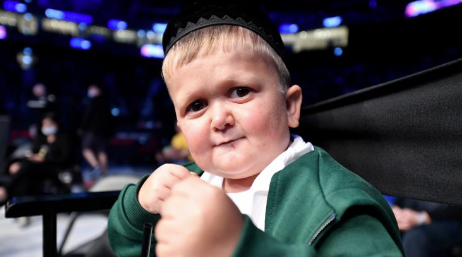 Viral TikTok Star Hasbulla, is known for his growth hormone deficiency and, despite his size, joins the UFC in the new "featherweight" category to be crowned the champion. 
As of recent, Hasbulla Magomedov has recently signed a five year contract with UFC and that more information would be released later down the line. 
"The rumors are true. I have officially signed a deal to fight in the UFC! Details will be revealed by the end of the year," Hasbulla says. 
Hasbulla's intentions and plans are still unclear, what he's doing with his contract is to be discovered eventually. 
"Yes, we did sign Hasbulla. What he's going to end up doing remains to be seen," Dana White, UFC chief remarks.  
Hasbulla was able to get into the UFC with the help of a couple friends like: Khabib Nurmagomedov, Dana White, and some others. 
"Details will be revealed by the end of the year. Thank you to [UFC], [Dana White] [Khabib Nurmagomedov], [Surkhay Sungurov], [Justin Ozuna] and everyone who helped make this dream become a reality. Hasbulla remarks 
Khabib Nurmagomedov, the person who originally got Hasbulla in the UFC gave hasbulla the name "Mini Khabib" and speaking of Khabib, his main rival, Conor Mcgregor has been having quite the feud between Hasbulla and himself. 
"I have my UFC contract now, if Conor McGregor is really a man… see me in Abu Dhabi. Got smashed by Khabib already. Guess his money from [Floyd] Mayweather ran out and he needs more attention," Hasbulla said. 
Conor McGregor then responded "Now what you say you little…," but soon deletes the tweet afterwards. 
"This is what I've been waiting for, as usual it's deleted. Conor McGregor, just @ me and leave the tweet up," Hasbulla answered. 
Hasbulla soon followed up with, "My brother Khabib Nurmagomedov smashed him and all his team, now is my time to rise! #HasbullaTime #CantDeleteMyTweetsConor." 
But enough beef, fans will see how things truly end up in the ring.