Rachaad White: the next Kenith Walker?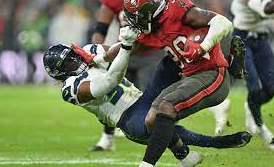 There has been a ton of movement and injuries at the running back position which opened up slots for fantasy studs like Kenith Walker and D'Onta Foreman. Players like this could end up being a league winner. This may leave spectators wondering, who is next? 
Rachaad White was given the start after Leonard Fournette lost his passport which was "leaving the Bucs wondering for much of the week whether Fournette would travel with the team or make it to Germany at all." 
Fournette ended up receiving a replacement passport and was able to make the game but was not given the starting spot. 
While working in as the 2nd string, Fournette went down with a hip injury, although "The severity of Fournette's injury is unknown," it looks like he may miss some time. 
The next guy off the bench would be standout rookie running back Rachaad White. White coming off a great game, makes him a must pick up. Whites "game- breaking speed" along with his ability to run through defenders, makes him a very exciting player to watch out for.  
White is coming off a career game with 105 yards on the ground. He will see an expanded role for the time, and possibly after the return of Fournette as well. He is an interesting player to add to your roster.  
Fantasy playoffs are coming up faster than one may think, and the NFL is very busy. Players like Rachaad White may boost your team into the playoffs.  
White said after the game ""I mean, I feel great…. Blessed really to get the win. That was a big thing for me. We're just trying to do anything we can to get the win. It was fun out there. I feel like I did good. Some things I could have did better, but we'll see on film," a lot to look forward to in coming weeks for the Bucs newfound running game.